Hedgehog Anti Bird Brush
The new Hedgehog Anti Bird Brush can deter birds from perching, roosting or nesting on exterior surfaces around your home and garden – protecting against damage, nuisance and health risks.
Bird droppings can cause serious damage to your home by staining and corroding windows, doors, brickwork and guttering – all of which can lead to expensive repairs and unnecessary maintenance. They can also be potentially hazardous spreading disease and causing infestations of insects.
The innovative, cost-effective Hedgehog Anti Bird Brush provides an effective method of dealing with your bird pest problems by deterring birds from landing on structures, without harming the birds.
Made in the UK, the device comprises strips manufactured from translucent polypropylene bristles spun around a steel wire spine, which can be quickly and easily fixed to a wide range of surfaces using clips or adhesive.
Features
The Hedgehog Anti Bird Brush provides a more attractive alternative to ugly netting or bird spikes maintaining the aesthetics of your home and garden.
Virtually indestructible, it requires no maintenance and will keep surfaces clear of birds year-on-year.
The Hedgehog Anti Bird Brush is available in lengths of 750mm and a width of 120mm.
PLEASE NOTE: We do not sell our products directly so please follow the Find a Stockist link at the top of the page. For contactless delivery to your home, please browse through our list of online stockists.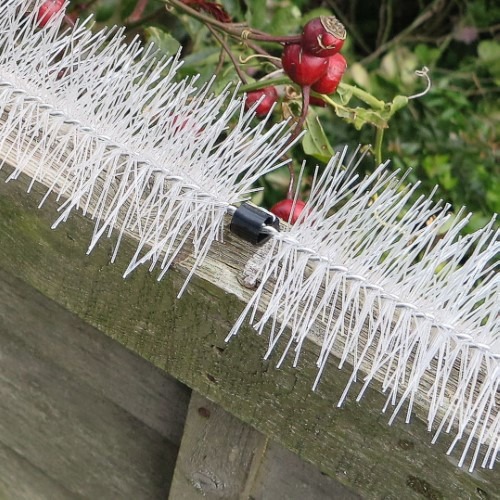 Important Information
Please note that our anti bird brush can act as a deterrent to nuisance birds. Bird spikes and brushes, ours included, are not 100% guaranteed to be effective in deterring all birds and, in particular, smaller birds may still land on the brush.