Hedgehog EasyScoop
The Hedgehog Easyscoop Gutter Cleaner is the easiest way to remove leaves, twigs & waste from gutters, before installing the 
Hedgehog Gutter Brush
. It's a versatile scoop, too, with a multitude of uses around the home.
The scoop is made from lightweight, durable polypropylene and flexes in order to fit gutters, making light work of the tough and time consuming job of cleaning them.
This is a clever, economical piece of gutter cleaning equipment and a great time saver. The scoop is eye catching orange and a really useful addition to you household and gardening tools.
Additional uses for the Easyscoop:
   Grass seed and fertiliser spreader
   Potting mix measurer
   Pet food dispenser
   Pooper scooper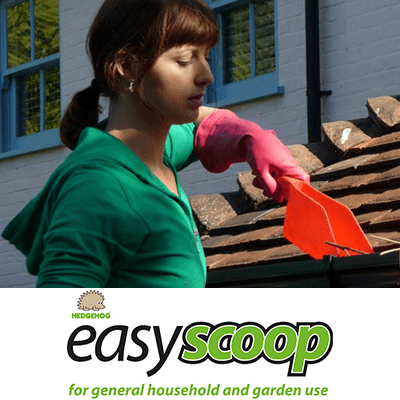 PLEASE NOTE: We do not sell our products directly so please follow the Find a Stockist link at the top of the page. For contactless delivery to your home, please browse through our list of online stockists.