Hedgehog Gutter Brush
The award winning Hedgehog Gutter Brush is the market leading brush gutter guard. It's been designed to prevent leaves clogging gutters and drains, keeping them clear for years. It's hard wearing, easy to fit and comes with a 
10 year guarantee
. You don't need pricey gutter cleaning tools, you just fit the brush into the gutter and let it work for you.
The Hedgehog Gutter Brush is the market leader and the No.1 choice when considering leaf guards!
There's no specialist knowledge needed to install a Hedgehog Gutter Brush. Once fitted into a clean system, leaf clogged gutters and drains become a thing of the past. (Our Hedgehog Easyscoop is a quick, effective way to clear gutters prior to installing the gutter brush.) Please note that in areas of dense deciduous trees, we recommend cleaning the brush every couple of years, if required.
The Hedgehog offers protection from blockage and subsequent damaging water overflow, saving time and money in the long term. As with any gutter guard, please note that the Hedgehog Gutter Brush will not prevent silt build up in guttering or the growth of vegetation resulting from drifting seeds.
Only trust genuine Hedgehog Gutter Brush in your gutters! Check for the tag!
Features:
Stainless steel wire core and polypropylene bristles to create a durable brush
Standard 4m x 100mm brush, suitable for 95% of household gutters
Also available in diameters from 50mm to 200mm.
Benefits:
Simple to fit
10 year no quibble guarantee
Adapts automatically to the shape of any gutter
Easy to clean if necessary
Can also be used as a pathway drain brush
Virtually indestructible
No expert installation experience needed. Fits in minutes
100mm and 125mm Hedgehog Gutter Brushes are available in black, white or brown
Once you've tried the Hedgehog Gutter Brush, you'll wonder how you ever managed without it.
PLEASE NOTE: We do not sell our products directly so please follow the Find a Stockist link at the top of the page. For contactless delivery to your home, please browse through our list of online stockists.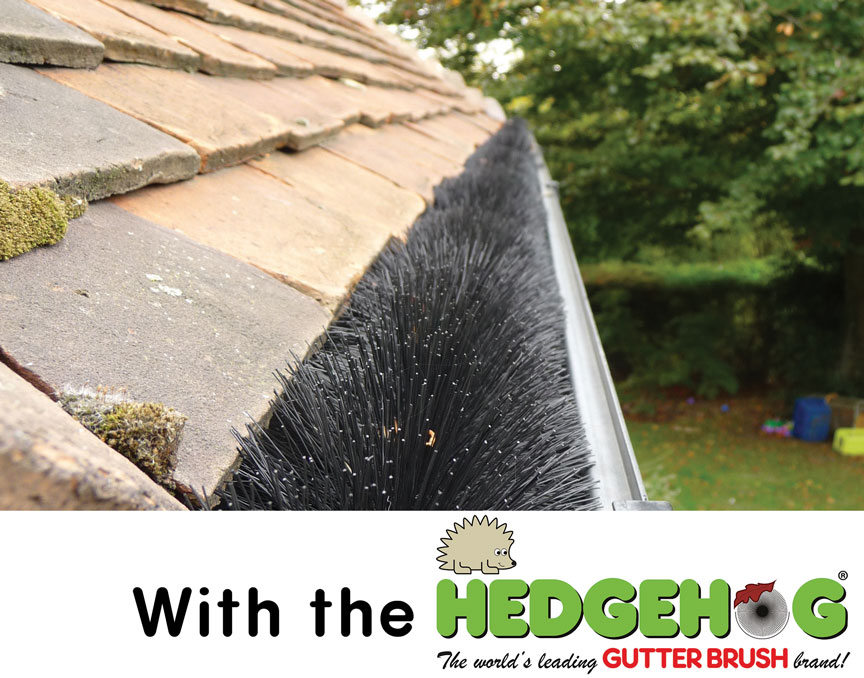 Terms of the 10 Year Product Guarantee
We guarantee the manufacturing quality of the 
Hedgehog
®
 Gutter Brush and that the wire and filaments will continue to perform their intended function as a leaf guard for the 10-year warranty period. The 
Hedgehog
®
 Gutter Brush will not prevent the build-up of silt in gutters nor will it stop the growth of vegetation caused by drifting seeds. In areas of dense trees and roof moss, it is recommended that the brush is cleaned as required. The limit of our liability is for the value of the original product or replacement with new product including transport to any mainland destination. For islands and export our guarantee is limited to the value of replacement product only. Proof of purchase must be retained and in the event of a claim, must be returned with the malfunctioned product.
Please note: Only genuine Hedgehog® Gutter Brushes will be covered by our guarantee